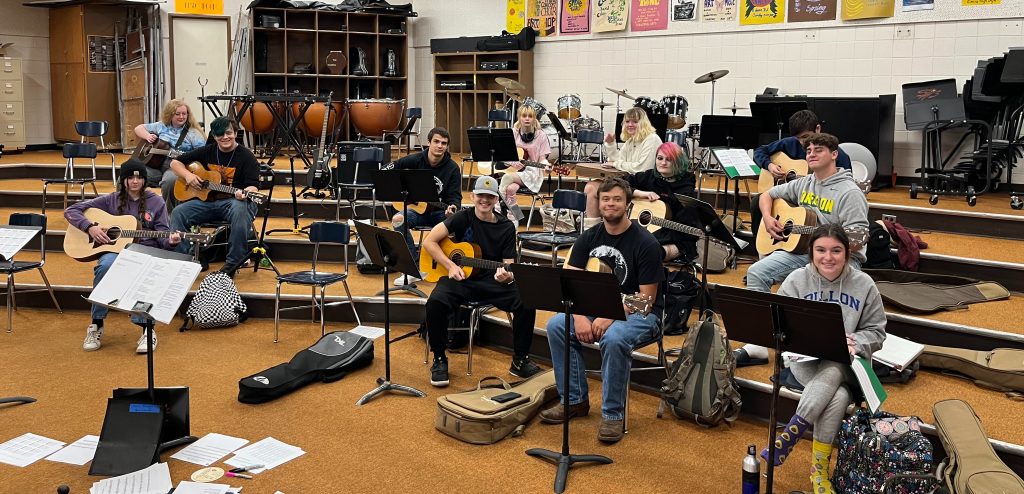 What's that sound? A melodic period of singing, strings vibrating, and instruments expressing their nature.
Elmira offers all of the options to discover and improve in music classes! Music is well known and is something that everyone can enjoy. Music is also an art that you can create to please anyone, however most people listen to it for their own enjoyment.
Elmira offers three musical classes: choir, band, and guitar class.
Guitar class is a class to teach you how to play and advance your guitar skills. This class offers guitars you can borrow if you don't have one, and will teach you chords, notes, tunes, etc.
The music teacher's plan is to hopefully get the class to perform on stage at a pizza parlor, called "Whirled Pies."
Unfortunately, the class is a little bit of a handful as there are about 13 guitarists and 5 brand new to the class at the time of first semester. They are ready to learn despite the challenges to come.
Is someone talking? No, they are singing! One of the most powerful instruments is the voice itself.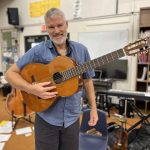 The choir class is a group ready to tackle any song with the power of the voice! The choir, currently, is a small group of students that loves to sing.
Matt Taylor wants to make this a very lovable class for those who have a passion for singing. He offers to give the students a choice in recommending songs they like for the class. Recommended songs are most likely able to be arranged for the whole class as long as they aren't incredibly explicit.
Taylor wants to take the choir out to the pizza parlor with the guitar class so they can play tunes together. It's a great way to get into music as well as find new music.
Last but not least, we have band class. A class where you can play all sorts of instruments that bring a different power to the team.
Not only do you have to play in sync, but you also have to play your part correctly in order to set off a great atmosphere that empowers a specific mood that the song expresses.
The band group has returning players at the moment, but he's always open to having newbies jump into the water.
So what kind of instruments can you play? The class offers the tuba, bass, all three saxophones (baritone, tenor and alto), clarinet, trumpet and percussion. Taylor is always finding new instruments, so there's always something to play.
Taylor's plan for this class is to perform as a pep band in the sports events. Hopefully, Taylor's goals are soon to be accomplished!